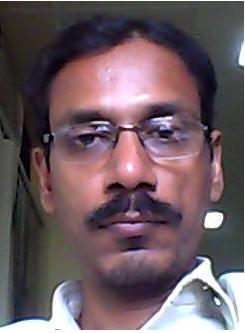 Thursday, 13th November, 1969
Same as Present Address
Indian
Male
M.Tech. (Microwave Engineering), Ph.D.
Scientist
SSBTR

Control Engineering in Systems Biology/Medicine
Developed few algorithms for the analytical assessment of -
Cancer treatment dynamics
Leukemia treatment dynamics


Assistant Professor, Dept. Electronics & Comm. Engg., Bengal College of Engineering & Technology, Durgapur



Kaizen Industries pvt ltd, Kolkata as Consultant - Technical Adviser (July 2004 to Jan 2006) [Job responsibility: Responsible for development of Microwave WLL Base Station Antenna manufactured in factory, supervising production, testing and training of personnel] 
Microstrip antenna design from SAMEER [Society for Microwave Electronics Engineering and Research, Kolkata Center, [R&D Lab under Ministry of Information Technology, Govt of India], (From 10- Oct 2003 for One year)
Production of VHF transceiver sets from Philips Telecommunication Industries ltd. (Simoco) (4th Aug 1997 to 3rd Aug 1998)
Majumder D, Ray DK, Chatterjee I, Dhar PK (2018) Translation of Middle-out Rational Approach (MORA) in an Understanding of the Therapeutic Outcome of Cancer: Experience from India, Journal of Translational Research, 1(1): 4-7.
Dhar PK, Majumder D (2015). Development of the Analytical Model for the Assessment of the Efficiencies of Different Therapeutic Modalities in Leukemia. Journal of Computational Systems Biology, 1(1): 104: 45 pages
Dhar PK, Majumder D (2013). A composite synergistic systems model for exploring the efficacies of different chemotherapeutic strategies in cancer, Computational Biology Journal, Volume 2013, Article ID 301369, 26 pages, http://dx.doi.org/10.1155/2013/301369 [Hindwai, ISSN: 2314-4165 (print); 2314-4173 (on-line)] [Link: http://www.hindawi.com/journals/cbj/2013/301369/] 
Dhar PK, Mukherjee A, Majumder D (2012). Difference delay equation based analytical model of hematopoiesis, Automatic Control of Physiological State and Function, 1: Article ID 235488 (11 pages), doi: 10.4303/acpsf/235488.
Dhar PK, Mukherjee A, Majumder D. Stochastic model of hematopoiesis. Proceedings of the International Conference On Modelling And Simulation, 3-5 Dec, 2007, organized by University of Calcutta in association with AMSE (International Association for Modelling and Simulation Technique in Enterprise, France), Kolkata, MS 164, pp. 488-492.
AICTE sponsored MODROB [Modernization and Removal of Obsolescence] "Advancement of microwave antenna & transmission line experiment facilities for academics purpose" Total grant : [13,00000/ (first part)-+14,50,000 /- (second part)]
Academic
Sanjoy Institute of Engineering And Management. Mathura as a Guest Lecturer on October 2007
Narula Institute of Technology, Kolkata as a Part time Lecturer for one semester in ECE (2005)
Industry
Oasa Electronics Pvt Ltd, Kolkata as a Service Engineer (Aug 1998 to Jan 2001) for VHF transceiver sets
Member Since : 15th December, 2014 | Profile Last Updated On : 07th March, 2023 10:09 PM