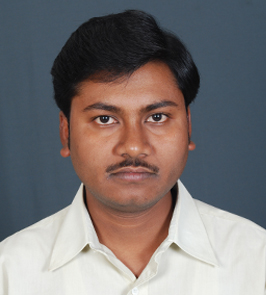 Founder MemberWeb Administrator
Return
Wednesday, 19th September, 1984
Same as Present Address
Indian
Male
M.Sc. [Tech], Ph.D.
Scientist
SSBTR

Computational Systems Biology
Research in SSBTR
Administrative job in SSBTR
Web Administration of SSBTR
1. Mukherjee S, Chatterjee G, Ghosh M, Das B, Majumder D, (2016) "Efficacy and toxicity assessment of different antibody based anti-angiogenic drugs by computational docking method." Advances in Bioinformatics, in press. (Accepted 21 January 2016)
2. Das M, Das B, Das A, Chatterjee I, Majumder D, (2015) "Computational Analysis of Ultra-Structural Images of Red Blood Cells." Journal of Oncology& Translational Research, Vol. I, Iss. I, doi: 10.4172/JOTR.1000104 (Accepted 6 December 2015)
3. Chatterjee I, Sinha B, Das B, (2015) "Factors Related to Phychological Well-Being among Engineering, Medical and General Male Students." Research Expo: International Multidisciplinary Research Journal, Vol. V, Iss. VIII, ISSN: 2250-1630. [Quality IF: 5.93 (CARS)]
4. Das B, Majumder D, (2014) Interactions of transcription factors in HLA class I transcriptosome,International Journal of Computer Information Systems and Industrial Management Applications, Vol. 6, pp. 592-602, ISSN 2150-7988. © MIR Labs, www.mirlabs.net/ijcisim/index.html (indexed in IET INSPEC database)
5. Das B, Majumder, D, (2012) Information Theory Based Analysis for Understanding the Regulation of HLA Gene Expression in Human Leukemia, International Journal of Information Science and Technique, Vol 2, No 5, pp.39-50. [Academy & Industry Research Collaboration Center (AIRCC): airccse.org]. (Accepted 13 Aug, 2012) [IF: 3.02].] 
6. Das B., Majumder D, (2012) Interactions among MARM binding factors, Proc. 2nd World Congress on Information and Communication Technologies (WICT 2012), Nov. 2012, pp. 191-196, IEEE (IEEE Catalog Number: CFP1268R-CDR, ISBN: 978-1-4673-4804-1).
Journal Reviewer: Briefings in Bioinformatics
Member Since : 08th October, 2013 | Profile Last Updated On : 07th March, 2023 10:08 PM